5th century:

the city of Monselice

The area, where we find Monselice, had been inhabited since the age of stilts, in the Paleoveneto period, and was subsequently the site of a Roman settlement.
The choice of the Longobards to build a fortification on the foothills of the Rocca is important in terms of the defensive strategy.
In the 11th century an increase in the local population favors new residential settlements and in the mid-12th century Monselice was elevated to the rank of Municipality, entering the jurisdiction of Ezzelino da Romano.
Ezzelino, vicar in Veneto of the German emperor Frederick II, expands and perfects the wall system, which completely closes the town.
At the beginning of the 16th century the city was at the center of a military dispute between the imperial vicar Cangrande della Scala, lord of Verona, and the lordship of the Carraresi of Padua. In 1338 the Carraresi definitively took possession of Monselice.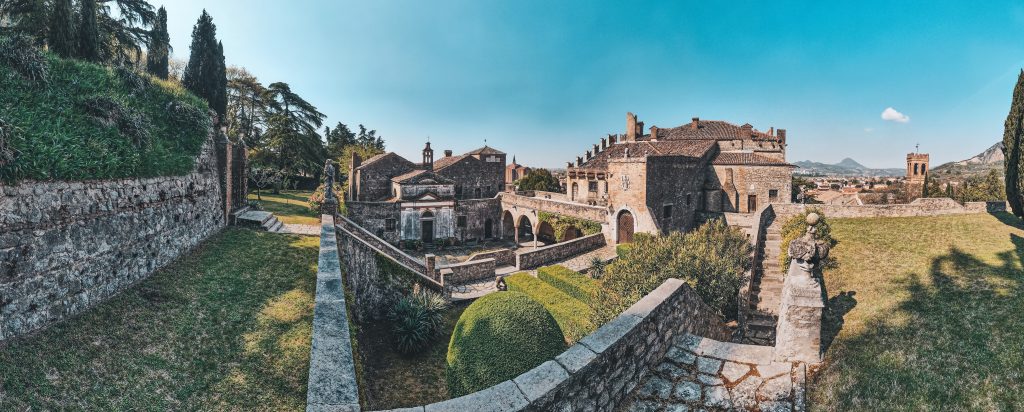 In the year 1405 the vast territory of Monselice was incorporated into the Serenissima Republic of Venice and the city gradually began to lose its defensive function and began to become a residence and holiday center for the noble Venetian families.
The Venetian noble families bought large landholdings in the city center and in the surrounding countryside. The Marcello family took ownership of the Ezzelino palace and expanded and enriched the construction; the Duodo family settled on the south side of the fortress and built the Villa Duodo; the Nani family built the villa of the same name. Other venetian families built their villas just outside the city gates: the Villa Pisani and the Villa Contarini along the canal, the Villa Corner outside the Adriatic gate and the Villa Venier at Porta Carpenedo.
The 19th century sees the city of Monselice facing the modern era. In the middle of the century, part of the outer perimeter of the walls and the monumental access gates to the city were demolished.
In the eyes of modern day visitors, however, there is ample evidence of the medieval city such as the Civic Tower, good sections of walls and the monumental Rocca di Monselice complex, in addition to the building heritage of the Venetian period.